About Us
Founded in 1972 in Toronto primarily as a service company specializing in the repair and rebuilding of Multilith offset presses, Thistle Ltd. quickly gained a reputation as a reliable and high-quality provider of parts and maintenance. Since then we have continually expanded our offering of high-quality products and service including C.P.Bourg collators and perfect binders, Challenge paper cutters and drills, we have an extensive dealer network across Canada, a full in-house machine shop and a large parts and equipment inventory.
Robert E. Thistle Mansion Rd.
CP Bourg meeting at our Pickering office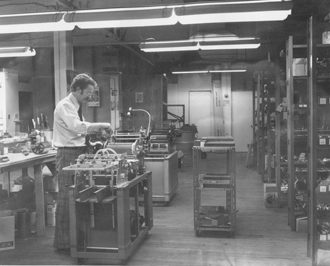 Harry Thistle at King St. shop.
Harry Thistle on the Lathe King St.